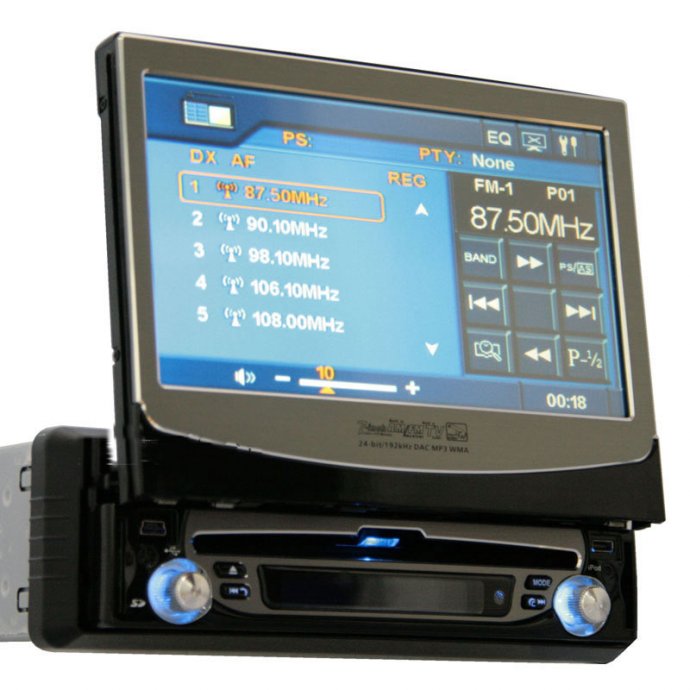 Image 1; Image 2
HASEE JE759 car radio DVD TV Car radio DVD+TV 759 1 DIN screen 7 inches Supported formats: CD (-R - RW) - DVD (-R - RW) - MPEG 4 - DIVX-XVID - AVI-MP3 - WMA - WAV. Video Color System: PALE / NTSC Screen 7 inches removable - motorized - tactile Resolution: 480x234 pixels - 500 line. Display 16:9e integrated analogical TV Tuner. System: PALE B/G - I - D/K NTSC M - SECAM D/K-B/G Audio Information: *Equalizer: Classic - Pop - Rock - User *Out Puissance Max: 45Wx4 SNR: 80dB. Regulation Flat - Libra - Treble - Bass Input/Output *Input microphone *Input backward camera *Output box of bass 4 channels of exit its FL-FR - RL-RR) *Port USB *Port iPod Firewire *Reader of SD cards *Input video AV *2 video outputs rear (for secondary screens) *Switch for backward camera *Supply of antenn *Different input for TV antennas and Radio FM tuner: 76~108.0MHz Bluetooth: hand free and helmet - Class 2

sold by HASEE
410€

Clients who searched this product also liked:

Advices for this article:
Better understand this article:

USB:Universal Serial Bus ports enable you to connect multiple devices together without turning them off.
Bluetooth:Bluetooth is a proprietary open wireless technology standard for exchanging data over short distances (using short wavelength radio transmissions) from fixed and mobile devices, creating personal area networks (PANs) with high levels of security. It enables connecting small devices together such as a mobile phone with a headset.
DIN:It is the size format of the device. 1DIN is generally used by small cars while 2DIN is designed for big cars.
MP3:MP3 is a famous music file format.
DVD:DVD is a memory support, evolution of the CD.
RDS:RDS enables the device to search FM and AM channels by itself.
WMA:is a file format for videos.
DIVX:is a video file format.
AVI:is the standard Windows video file format.
HASEE:Haseeis the second biggest computers manufacture in China.
Clients comments (for questions, use the contact form):
---
Copyright(c) 2009-2010 NetPayBox All rights reserved.
SALES POLICY -
CONTACTS -
SELL ON NetPayBox -
AFFILIATION PROGRAM -
TRANS ASIA GROUP -
HOME -
REFERENCEMENT -
SITEMAP