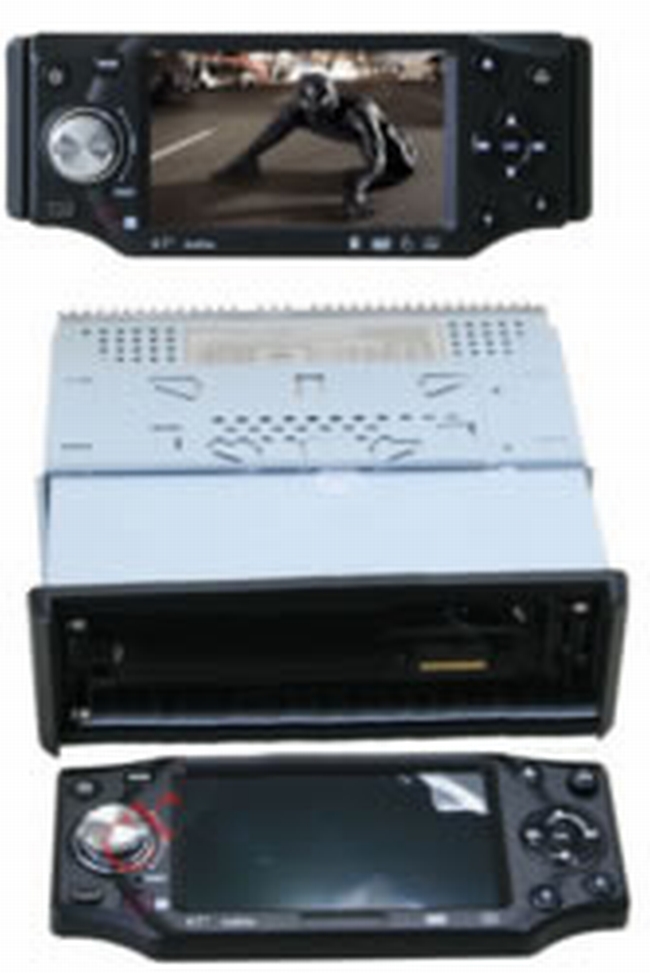 Image 1; Image 2
HASEE JE4303 car radio DVD TV Car radio JE4303 DVD player + DivX 4.3 inches in car bluetooth with tuner TV - FM Radio - MP4 Wide tactile screen OSD 4.3 16:9 Color digital TFT - Bluetooth - Dashboard motorized/angle adjustable - Reads files MP3 directly since the USB port- TV Tuner / 100 prerecordable stations- Electronic Anti-Shock - NTSC/PAL Compatible(SECAM Optionnal) - Picture Control:Brightness/Contrast/Color/Tint - DVD/DVD-R/MP3/MP4(DIVX)VCD/CD/CD-R/CD-RW Compatible - Repeat/Program/Random/Intro Play - RADIO RDS AM/FM/Stereo Receiver - 30 stations recordables - Auto Memory Store/Preset Scan - Preset EQ(NORMAL/ROCK/CLASSIC/POP/FLAT/GAZD/VOCAL) - 60w×4 high power output - Parking Detector interface - 2V Preamp Output(2pair RCA) - Subwoofer Output - Card Sice Full Function Remote Control - Rear Monitor Video Output - 1 Pair of RCA Line Out - Aux input

sold by HASEE
247€

Clients who searched this product also liked:

Advices for this article:

- This device uses USB hot-connect technology.
Better understand this article:

RAM :Random Access Memory, the memory that is used by the device and is deleted while turning off the device. It is used as temporary memory by the device.
USB:Universal Serial Bus ports enable you to connect multiple devices together without turning them off.
Bluetooth:Bluetooth is a proprietary open wireless technology standard for exchanging data over short distances (using short wavelength radio transmissions) from fixed and mobile devices, creating personal area networks (PANs) with high levels of security. It enables connecting small devices together such as a mobile phone with a headset.
MP3:MP3 is a famous music file format.
MP4:MP4 is a famous video file format.
DVD:DVD is a memory support, evolution of the CD.
RDS:RDS enables the device to search FM and AM channels by itself.
OSD:OSD is a system that enables you to have menus on-screen for setup the device easily.
DIVX:is a video file format.
HASEE:Haseeis the second biggest computers manufacture in China.
Clients comments (for questions, use the contact form):
---
Copyright(c) 2009-2010 NetPayBox All rights reserved.
SALES POLICY -
CONTACTS -
SELL ON NetPayBox -
AFFILIATION PROGRAM -
TRANS ASIA GROUP -
HOME -
REFERENCEMENT -
SITEMAP