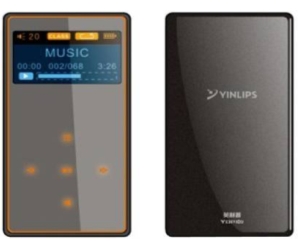 Image 1; Image 2
YDP109 1Go Player Recorder MP3 Digital recording function + ebook function "1.1.1 inch 128*64 OLED screen, 2. Music play: support various formats:MP1 MP2 MP3 WMA WMV ASF WAV 3. Ebook function:TXT 4. Digital recording function 5. Support various play modes :normal single cycle catalogue play catalogue cycle all cycle random browse play etc. 6. Support various EQ modes: nature rock popular classicality gentleness jazziness woof 7.Support fast speed USB2.0"

sold by Sia Electronics
27€

Clients who searched this product also liked:

Advices for this article:

- This device can read MP3 music files.
Better understand this article:

USB:Universal Serial Bus ports enable you to connect multiple devices together without turning them off.
ebook:The device can show ebooks (books sold or shared online on internet).
DIN:It is the size format of the device. 1DIN is generally used by small cars while 2DIN is designed for big cars.
MP3:MP3 is a famous music file format.
WMA:is a file format for videos.
Clients comments (for questions, use the contact form):
---
Copyright(c) 2009-2010 NetPayBox All rights reserved.
SALES POLICY -
CONTACTS -
SELL ON NetPayBox -
AFFILIATION PROGRAM -
TRANS ASIA GROUP -
HOME -
REFERENCEMENT -
SITEMAP