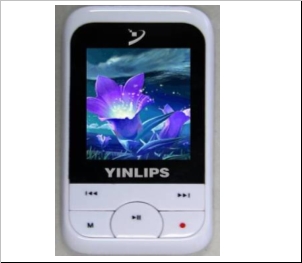 Image 1; Image 2
YDP558 2Go Player Recorder MP4 Supports various formats and 1.8'' screen + FM radio function+ recording function! "1.1.8 inch CSTN screen, full color display 2.Support AVI movie format 3.JPEG GIF picture browsing 4.TXT E-book reading 5.Support various audio formats: such as the MP1, MP2, MP3, WMA, WMV, WAV etc. 6.FM radio and support recording FM radio while listening to it 7.Recording & repeat function 8.Multiple playing & 7 EQ modes 9.support multi-language, 10.Timing shutdown 11.Whole animation menu 12.Colors:white,black"

sold by Sia Electronics
38€

Clients who searched this product also liked:

Advices for this article:

- This device can read MP3 music files.
Better understand this article:

Full Color:The device is full color if it enables 16 Millions color display.
e-book:The device can show ebooks (books sold or shared online on internet).
DIN:It is the size format of the device. 1DIN is generally used by small cars while 2DIN is designed for big cars.
MP3:MP3 is a famous music file format.
MP4:MP4 is a famous video file format.
JPEG:is a compressed image format usually used by internet users.
WMA:is a file format for videos.
AVI:is the standard Windows video file format.
Clients comments (for questions, use the contact form):
---
Copyright(c) 2009-2010 NetPayBox All rights reserved.
SALES POLICY -
CONTACTS -
SELL ON NetPayBox -
AFFILIATION PROGRAM -
TRANS ASIA GROUP -
HOME -
REFERENCEMENT -
SITEMAP