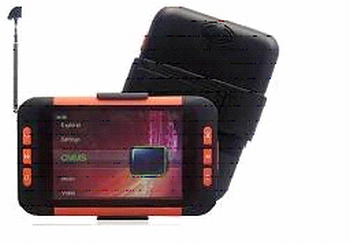 Image 1; Image 2
YDP703 4Go MP4 TV TNT Ebook portable The DTT and your MP4 in the hollow of your hands! "1. 3.5''TFT screen 2. Built-in Digital TV Tuner ( DVBT ) 3. Audio player: MP3/ WMA 4. Movie player: AVI/ RM / RMVB 5. Outside speaker with rational design, stereo sound, good sound quality. 6.Photos browse: JPG 7. High-speed real USB2.0 8. Support TF expansion cards 9. Support multi-language, can switch among 20 languages, real global service. 10. Stereo FM radio reception. 11. Wallpaper options, users can choose their favourite picture as wallpaper. 12. High-quality music performance of the real spectrum, 3D surround sound, Microsoft sound effects. 13. Calendar with stopwatch and perpetual calendar functions. "

sold by Sia Electronics
117€

Clients who searched this product also liked:

Advices for this article:

- This device uses USB hot-connect technology.
Better understand this article:

USB:Universal Serial Bus ports enable you to connect multiple devices together without turning them off.
ebook:The device can show ebooks (books sold or shared online on internet).
MP3:MP3 is a famous music file format.
MP4:MP4 is a famous video file format.
RDS:RDS enables the device to search FM and AM channels by itself.
TNT:Digital TV standard.
WMA:is a file format for videos.
AVI:is the standard Windows video file format.
Clients comments (for questions, use the contact form):
---
Copyright(c) 2009-2010 NetPayBox All rights reserved.
SALES POLICY -
CONTACTS -
SELL ON NetPayBox -
AFFILIATION PROGRAM -
TRANS ASIA GROUP -
HOME -
REFERENCEMENT -
SITEMAP