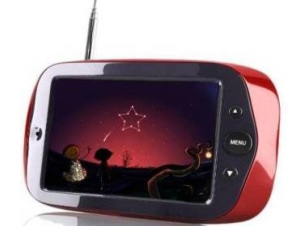 Image 1; Image 2
TV2009 4Go TV Portable analogical Player MP4 and camera An analogical and multifunctions television and console "1. Portable Media Player With 2.8'' TFT Color TV 2. Built-in Memory : Optional 1GB, 2GB or 4GB ,8GB 3. Built-in TV Tuner(analog signal ): PAL, NTSC 4. Audio player,video (movie) and photo browse function: MP3/MP4/wma/wav/avi/jpeg/tif 5. Built-in High Clarity Antenna 6. Digital Camera and DV function 7. TF Card Reader 8. Voice Recording 9. Built-in FM Radio & Speaker 10.support the RKP format games 11. Rechargeable Battery 12.Dimension: 10.6*5.8*1.8cm."

sold by Sia Electronics
106€

Clients who searched this product also liked:

Advices for this article:

- Increase the memory of you device or add Wifi to it by adding memory cards.
Better understand this article:

DIN:It is the size format of the device. 1DIN is generally used by small cars while 2DIN is designed for big cars.
MP3:MP3 is a famous music file format.
MP4:MP4 is a famous video file format.
JPEG:is a compressed image format usually used by internet users.
WMA:is a file format for videos.
AVI:is the standard Windows video file format.
Clients comments (for questions, use the contact form):
---
Copyright(c) 2009-2010 NetPayBox All rights reserved.
SALES POLICY -
CONTACTS -
SELL ON NetPayBox -
AFFILIATION PROGRAM -
TRANS ASIA GROUP -
HOME -
REFERENCEMENT -
SITEMAP