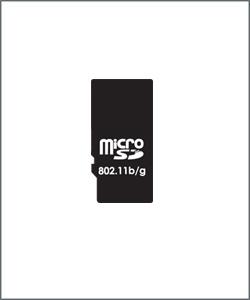 Image 1; Image 2
SDW823 Card MicroSD WIFI Add the Wifi to all your devices ! "The first micro card SDIO 802.11b/g WIFI. Ultra-low consumption. Compatible Pocket PC/PDA Phone (Smartphones). Skype Compatible. Network Standard IEEE 802.11b/g. Network architectures Infrastructure, Ad hoc.Technical modulation: BPSK, QPSK, 16QAM, 64QAM, CCK, OFDM, DSSS. Sensibility of the sensor 85 dBm.Electric Consumption : reception 110 mA, Voltage : DC 3.0V – 3.6V. Temperature of use: -45 °C to +85 °C.Host Interface: Micro SDIO.OS Support: Windows Mobile 5.0 et 6.0."

sold by Sia Electronics
63€

Clients who searched this product also liked:

Advices for this article:

- Check ou PC games!
Better understand this article:

WIFI:Wi-Fi (pronounced /'wa?fa?/) is a trademark of the Wi-Fi Alliance. It is not a technical term. However, the Alliance has generally enforced its use to describe only a narrow range of connectivity technologies including wireless local area network (WLAN) based on the IEEE 802.11 standards
MicroSD:MicroSD refers to memory cards such as TFcards.
OSD:OSD is a system that enables you to have menus on-screen for setup the device easily.
Clients comments (for questions, use the contact form):
---
Copyright(c) 2009-2010 NetPayBox All rights reserved.
SALES POLICY -
CONTACTS -
SELL ON NetPayBox -
AFFILIATION PROGRAM -
TRANS ASIA GROUP -
HOME -
REFERENCEMENT -
SITEMAP