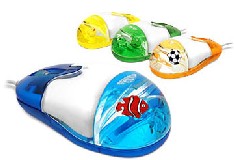 Image 1; Image 2
Mouse for PC standard PS/2 novelty 2 buttons Put colors on your desk! Funny multicolors mouse, 2 buttons embark a compartment of water where float small playful objects (unpredictable motives according to availability of stocks).

sold by Sia Electronics
4€

Clients who searched this product also liked:

Advices for this article:

- Check ou PC games!
Better understand this article:

DIN:It is the size format of the device. 1DIN is generally used by small cars while 2DIN is designed for big cars.
Clients comments (for questions, use the contact form):
---
Copyright(c) 2009-2010 NetPayBox All rights reserved.
SALES POLICY -
CONTACTS -
SELL ON NetPayBox -
AFFILIATION PROGRAM -
TRANS ASIA GROUP -
HOME -
REFERENCEMENT -
SITEMAP