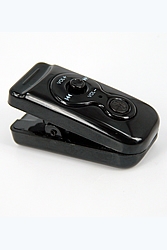 Image 1; Image 2
StrongID Auricle Bluetooth Stereo, HD sound , Jack plug and provided earphones You don't want to change of headphones between your musical listening and your telephone Opt for this active auricle HD with Jack plug which can receive a stereo headphones. It is delivered with 2 stereo earphones and can become attached to the tie.

sold by Sia Electronics
41€

Clients who searched this product also liked:

Advices for this article:

- Bluetooth devices can be paired together.
Better understand this article:

Bluetooth:Bluetooth is a proprietary open wireless technology standard for exchanging data over short distances (using short wavelength radio transmissions) from fixed and mobile devices, creating personal area networks (PANs) with high levels of security. It enables connecting small devices together such as a mobile phone with a headset.
HD:High-definition video or HD video refers to any video system of higher resolution than standard-definition (SD) video, and most commonly involves display resolutions of 1,280×720 pixels (720p) or 1,920×1,080 pixels (1080i/1080p).
Clients comments (for questions, use the contact form):
---
Copyright(c) 2009-2010 NetPayBox All rights reserved.
SALES POLICY -
CONTACTS -
SELL ON NetPayBox -
AFFILIATION PROGRAM -
TRANS ASIA GROUP -
HOME -
REFERENCEMENT -
SITEMAP