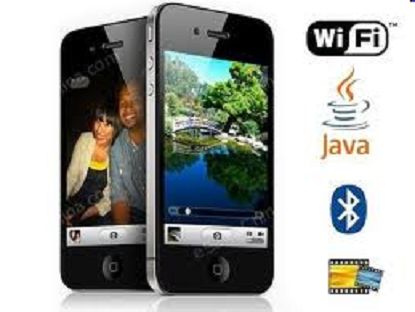 Image 1; Image 2
AirPhone 4 : the 'iPhone 4 competitor! DUAL SIM, WIFI, GPS, JAVA, MP4, MP3, QUADBAND "Screen 3.5 inches 16 Millions colors WQVGA PX: 320*480px Quadband:GSM850/900/1800/1900MHZ Dual sim card Dual standby Java 2.0,Handshaking Multi-languages,Wifi GPS... Hot Spot  Original accessories Universal iphone4 Slide to unlock Slide to turn page (5 pages) Wifi wireless B/G     E-book reader MP4,MP3   JAVA 2.0 for downloads "

sold by Sia Electronics
178€

Clients who searched this product also liked:

Advices for this article:

- This device can read MP3 music files.
Better understand this article:

WIFI:Wi-Fi (pronounced /'wa?fa?/) is a trademark of the Wi-Fi Alliance. It is not a technical term. However, the Alliance has generally enforced its use to describe only a narrow range of connectivity technologies including wireless local area network (WLAN) based on the IEEE 802.11 standards
GPS:The Global Positioning System (GPS) is a space-based global navigation satellite system (GNSS) that provides reliable location and time information in all weather and at all times and anywhere on or near the Earth when and where there is an unobstructed line of sight to four or more GPS satellites. It is maintained by the United States government and is freely accessible by anyone with a GPS receiver.
Java:Java refers to a number of computer software products and specifications from Sun Microsystems, a subsidiary of Oracle Corporation, that together provide a system for developing application software and deploying it in a cross-platform environment. Java is used in a wide variety of computing platforms from embedded devices and mobile phones
DUAL:DUAL SIM enables having 2 SIM cards working side by side.
STANDBY:Dual Standby means the device can answer calls from both SIM cards at the same time.
e-book:The device can show ebooks (books sold or shared online on internet).
MP3:MP3 is a famous music file format.
MP4:MP4 is a famous video file format.
Clients comments (for questions, use the contact form):
---
Copyright(c) 2009-2010 NetPayBox All rights reserved.
SALES POLICY -
CONTACTS -
SELL ON NetPayBox -
AFFILIATION PROGRAM -
TRANS ASIA GROUP -
HOME -
REFERENCEMENT -
SITEMAP