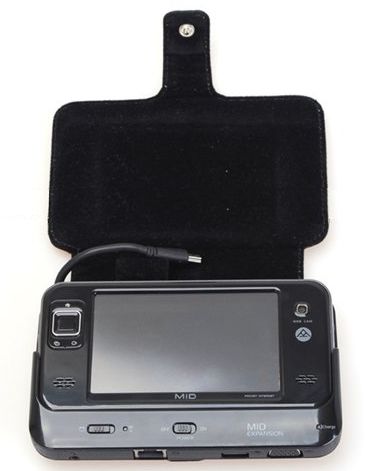 Image 1; Image 2
TouchMID II HASEE: A mobile phone in a pocket tablet An internet mobile device in 628MHz with Linux 800x480 16M colors and Wifi! Smartphone tribande 900 / 1800 / 1900MHz bluetooth WiFi USB with a 4.3 inch tactile LCD screen , resolution max 800x480pixels, 16M colors. APN camera 2Mpixels. Size 125X68X14mm for 120g. Smooth black. Linux system. Random access memory 128Mo stretchable in 16Go by MicroSD card. Support Java. Stereo radio FM. Built in speakers. Autonomy 240-360minutes / 150-240h. Reading MP3 and MP4. Delivered with a USB station of welcome.

sold by HASEE
356€

Clients who searched this product also liked:

Advices for this article:
Better understand this article:

WIFI:Wi-Fi (pronounced /'wa?fa?/) is a trademark of the Wi-Fi Alliance. It is not a technical term. However, the Alliance has generally enforced its use to describe only a narrow range of connectivity technologies including wireless local area network (WLAN) based on the IEEE 802.11 standards
USB:Universal Serial Bus ports enable you to connect multiple devices together without turning them off.
Bluetooth:Bluetooth is a proprietary open wireless technology standard for exchanging data over short distances (using short wavelength radio transmissions) from fixed and mobile devices, creating personal area networks (PANs) with high levels of security. It enables connecting small devices together such as a mobile phone with a headset.
Java:Java refers to a number of computer software products and specifications from Sun Microsystems, a subsidiary of Oracle Corporation, that together provide a system for developing application software and deploying it in a cross-platform environment. Java is used in a wide variety of computing platforms from embedded devices and mobile phones
MID:A mobile Internet device (MID) is a multimedia-capable mobile device providing wireless Internet access.
MicroSD:MicroSD refers to memory cards such as TFcards.
Linux:Linux is a free open-source operating system standard, based on a lighter version of UNIX.
DIN:It is the size format of the device. 1DIN is generally used by small cars while 2DIN is designed for big cars.
MP3:MP3 is a famous music file format.
MP4:MP4 is a famous video file format.
OSD:OSD is a system that enables you to have menus on-screen for setup the device easily.
HASEE:Haseeis the second biggest computers manufacture in China.
Clients comments (for questions, use the contact form):
---
Copyright(c) 2009-2010 NetPayBox All rights reserved.
SALES POLICY -
CONTACTS -
SELL ON NetPayBox -
AFFILIATION PROGRAM -
TRANS ASIA GROUP -
HOME -
REFERENCEMENT -
SITEMAP