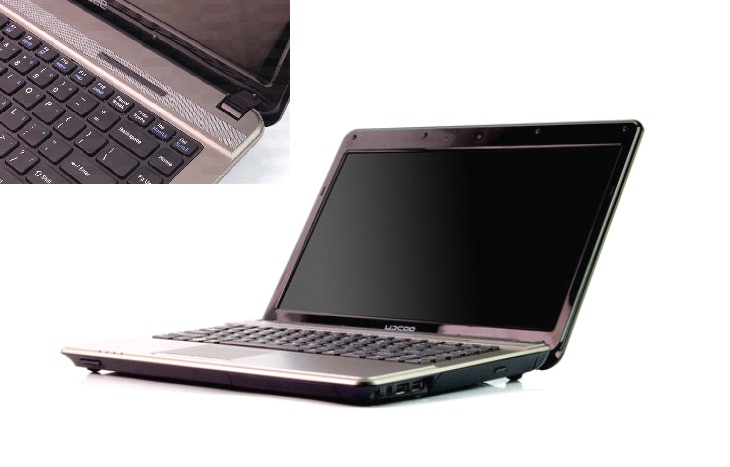 Image 1; Image 2
HASEE PC FE431 LAPTOP HASEE PC FE431 - LCD 14.1 screen WXGA - CPU Pentium Dual CoreT3400 2.16G - Memory (RAM) 1G DDR2 - Hard disc 160G FE431 - LCD 14.1 screen WXGA - CPU Pentium Dual CoreT3400 2.16G - Memory (RAM) 1G DDR2 - Hard disc 160G SATA - ODD DVDRW - Chipset SIS M672 - Graphic card ATI M82-ME(HD3470) - wifi 802.11B/G - New model! Details : Penryn CPU dual core / 45nm / TDP 35W/ 667/800/ 1066MHz FSB / 4M/ 6M Cache processor L2 socket P support Tj85/Tj90 CPU Support 25W CPU (TBD / design reserve) / 14.1 screen WXGALCD Display (1280 x 800) / Graphic card SIS 672DX + Graphic card SIS 968 / RAM DDRII 667/533 support RAM DDRII RAM socket * 1 System RAM DDRII up to 2 GB total / 802.11b/g / SATA / AMD M82-ME / Audio codec realtek ALC662 / drive support DVD dual / Combo / Supermulti / 10 and 100 Mb/S / 3 X USB 2.0 Ports 1 X DC-in Jack 1 X RJ45 Ethernet 1 X RJ11 (Optional) 1 X VGA 1 X HDMI 1 X ESATA Port 2 x Phone jacks (w/ shielding) for microphone input / audio input / audio output: a). Micro externe + line in jack 1/8" b). External headphone jack 1/8" / 1 X Card reader socket for SD/ MMC/ MS/ MS-Pro / Li-ion Battery / 2.3kg / 342.7x245x33.95~36.25 mm /

sold by HASEE
572€

Clients who searched this product also liked:

Advices for this article:

- This device uses USB hot-connect technology.
Better understand this article:

WIFI:Wi-Fi (pronounced /'wa?fa?/) is a trademark of the Wi-Fi Alliance. It is not a technical term. However, the Alliance has generally enforced its use to describe only a narrow range of connectivity technologies including wireless local area network (WLAN) based on the IEEE 802.11 standards
RAM :Random Access Memory, the memory that is used by the device and is deleted while turning off the device. It is used as temporary memory by the device.
USB:Universal Serial Bus ports enable you to connect multiple devices together without turning them off.
CPU:The Central Processing Unit or processor is the brain of your computer. Is is a chipset that executes complex operations at a certain frequency (2 GHz = 2 Giga operations per second).
HD:High-definition video or HD video refers to any video system of higher resolution than standard-definition (SD) video, and most commonly involves display resolutions of 1,280×720 pixels (720p) or 1,920×1,080 pixels (1080i/1080p).
DUAL:DUAL SIM enables having 2 SIM cards working side by side.
DIN:It is the size format of the device. 1DIN is generally used by small cars while 2DIN is designed for big cars.
DVD:DVD is a memory support, evolution of the CD.
HDMI:HDMI is the Video High-definition port standard.
HASEE:Haseeis the second biggest computers manufacture in China.
Clients comments (for questions, use the contact form):
---
Copyright(c) 2009-2010 NetPayBox All rights reserved.
SALES POLICY -
CONTACTS -
SELL ON NetPayBox -
AFFILIATION PROGRAM -
TRANS ASIA GROUP -
HOME -
REFERENCEMENT -
SITEMAP