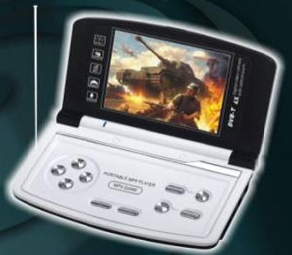 Image 1; Image 2
YDP704 8Go MP4 TV DTT CONSOLES GAMES portable MP4 TV DTT CONSOLES GAMES portable "1.Fold panel, High clarity 3.5"TFT screen 2. DVB-T: Digital TV 3. Game function: support NES GB GBC format Net download games,32 bit BIN Format games. 4. Digital video camera, DV function. 5. Movie playing function: Network movie playing, supporting 3GP/MP4/AVI format, AVI-MJPG format.Playing effect:320*240@30fps . 6. Audio playing function: for all audio format including MP3/WMA and WAV etc. 7. Photo/picture view function:for all the photos from digital camera, support standard JPG format. 8. Build-in MIC: MIC recording 9. A.V out(NTSC/PAL): Game picture movie out put to TV. 10. Background catalogue self reset 11. SD card socket, expanding the storage space.(SD/MMC 4.0 card) 12. Dictionary E-book function Calculator Notebook. 13. Built-in Li-battery. 14. Built-in speaker"

sold by Sia Electronics
193€

Clients who searched this product also liked:

Advices for this article:

- Increase the memory of you device or add Wifi to it by adding memory cards.
Better understand this article:

3G:International Mobile Telecommunications-2000 (IMT — 2000), better known as 3G or 3rd Generation, is a generation of standards for mobile phones and mobile telecommunications services
ebook:The device can show ebooks (books sold or shared online on internet).
e-book:The device can show ebooks (books sold or shared online on internet).
DIN:It is the size format of the device. 1DIN is generally used by small cars while 2DIN is designed for big cars.
MP3:MP3 is a famous music file format.
MP4:MP4 is a famous video file format.
DVB-T:Digital TV standard.
WMA:is a file format for videos.
AVI:is the standard Windows video file format.
Clients comments (for questions, use the contact form):
---
Copyright(c) 2009-2010 NetPayBox All rights reserved.
SALES POLICY -
CONTACTS -
SELL ON NetPayBox -
AFFILIATION PROGRAM -
TRANS ASIA GROUP -
HOME -
REFERENCEMENT -
SITEMAP