You are here : TELEPHONY / Touchscreen Intelligent Phone / Phone i9iCECT
Publish this page!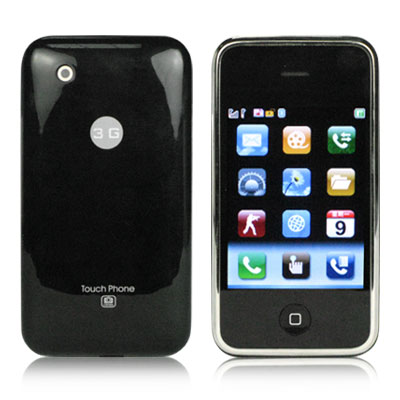 Image 1; Image 2
Phone i9iCECT DUAL SIM Quad band Multilanguages JAVA MP3 "Supports GSM Quad band (every country), Dual SIM - Reception and emission on the 2 lines with the switch function - 16:9 panoramic. 16 millions of colors. - 3.2'' inches WQVGA (240 x 320) LCD. - e-books. Touch screen - Frequency: GSM 900/1800MHz - Camera 2MP APN. - MP3 / MP4 player. - Polyphonic ringtone - Bluetooth. - shake control function - Games: Supports JAVA. - Frequency: GSM quad band - Dual SIM card (1 only card can't be online) - Screen: 3.2 inches 16 Million colors Micro SD. - Ringtone: 72 chord. supports Mp3. Mp4. Midi. Wav. Amr - Multimedia: Supports Mp3.Mp4/3GP - APN: 1.3 Mega. Maximal resolution de 1280x960 - Memory: 256M card. supports Micro SD - Data transfer: USB/U Disk Bluetooth - Picture supports: JPG. GIF. BMP - Contacts: 500 pcs - Message: 300 SMS/MMS - Networks: WAP.GPRS - Talk time: 200-380 minutes - Sleep mode: 200-420 hours - Dimensions: 110 x 60 x 11 mm - Weight: 65g - Multilanguages - 2 x batteries - 1 x charger - 1 x headphone - 1 x USB cable - 1 x Micro SD 1Go as a gift "

sold by Sia Electronics
106€

Clients who searched this product also liked:

Advices for this article:

- Ask our Java games!
Better understand this article:

3G:International Mobile Telecommunications-2000 (IMT — 2000), better known as 3G or 3rd Generation, is a generation of standards for mobile phones and mobile telecommunications services
RAM :Random Access Memory, the memory that is used by the device and is deleted while turning off the device. It is used as temporary memory by the device.
USB:Universal Serial Bus ports enable you to connect multiple devices together without turning them off.
Bluetooth:Bluetooth is a proprietary open wireless technology standard for exchanging data over short distances (using short wavelength radio transmissions) from fixed and mobile devices, creating personal area networks (PANs) with high levels of security. It enables connecting small devices together such as a mobile phone with a headset.
Java:Java refers to a number of computer software products and specifications from Sun Microsystems, a subsidiary of Oracle Corporation, that together provide a system for developing application software and deploying it in a cross-platform environment. Java is used in a wide variety of computing platforms from embedded devices and mobile phones
MID:A mobile Internet device (MID) is a multimedia-capable mobile device providing wireless Internet access.
DUAL:DUAL SIM enables having 2 SIM cards working side by side.
e-book:The device can show ebooks (books sold or shared online on internet).
MP3:MP3 is a famous music file format.
MP4:MP4 is a famous video file format.
Clients comments (for questions, use the contact form):
---
Copyright(c) 2009-2010 NetPayBox All rights reserved.
SALES POLICY -
CONTACTS -
SELL ON NetPayBox -
AFFILIATION PROGRAM -
TRANS ASIA GROUP -
HOME -
REFERENCEMENT -
SITEMAP