You are here : TELEPHONY / Touchscreen Intelligent Phone / iMOB1.2 CECT A8+
Publish this page!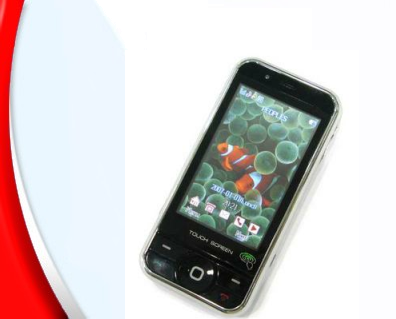 Image 1; Image 2
iMOB1.2 CECT A8+ DUAL SIM Biband MP3 MP4 "Size of the screen: 3.0 inches. Touch screen. 16 millions colors Ringtones: 72 chord. Ringtones Format: mp3. mp4. midi. wav. amr MP3 Ringtone. equalizer. 2 speakers Video: 3GP.MP4. Full screen mode APN: 1.3Mp with more than 1280x1024. Rom: 256Mo as a gift and supports Micros SD of 2Go and more Data Transfer: USB data line/USB flash disk/bluetooth Data Transfer/A2DP Standby Photo: jpg. gif Contacts: 500 groups Recording of 200SMS or 100MMS Schedule power on/off. On/off Video Alarm: 3 alarms. MP3 Ringtones Games: F1Race.Double dragons Big risk MP3. MP4. Hand free. Sendings of grouped sms. Dictaphone. WAP. Bluetooth. GPRS download. MMS. Memory Extension. E-book. Dictaphone Frequency: GSM Frequency of functioning: 900/1800MHz Talk time: about 120 minutes Time in sleep mode: about 100 hours Dimensions : 104.5x55.5x14MM Weight: 90G "

sold by Sia Electronics
149€

Clients who searched this product also liked:

Advices for this article:

- This device uses USB hot-connect technology.
Better understand this article:

3G:International Mobile Telecommunications-2000 (IMT — 2000), better known as 3G or 3rd Generation, is a generation of standards for mobile phones and mobile telecommunications services
USB:Universal Serial Bus ports enable you to connect multiple devices together without turning them off.
Bluetooth:Bluetooth is a proprietary open wireless technology standard for exchanging data over short distances (using short wavelength radio transmissions) from fixed and mobile devices, creating personal area networks (PANs) with high levels of security. It enables connecting small devices together such as a mobile phone with a headset.
MID:A mobile Internet device (MID) is a multimedia-capable mobile device providing wireless Internet access.
DUAL:DUAL SIM enables having 2 SIM cards working side by side.
STANDBY:Dual Standby means the device can answer calls from both SIM cards at the same time.
e-book:The device can show ebooks (books sold or shared online on internet).
DIN:It is the size format of the device. 1DIN is generally used by small cars while 2DIN is designed for big cars.
MP3:MP3 is a famous music file format.
MP4:MP4 is a famous video file format.
Clients comments (for questions, use the contact form):
---
Copyright(c) 2009-2010 NetPayBox All rights reserved.
SALES POLICY -
CONTACTS -
SELL ON NetPayBox -
AFFILIATION PROGRAM -
TRANS ASIA GROUP -
HOME -
REFERENCEMENT -
SITEMAP