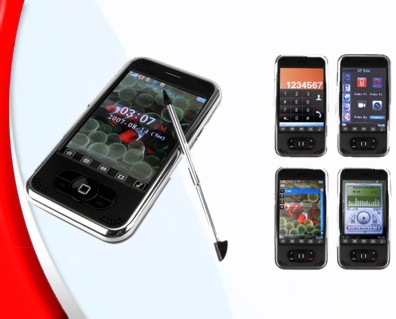 Image 1; Image 2
iMOB 1.3 CECT P168-9 DUAL SIM Quad band Multilanguages MP3 MP4 "Size of screen: 3.0 inches. 260000 colors. PX: 240×320px - Ringtones: 64 chord. Format of ringtones: mp3. Mp4. Midi. Wav - Music: MP3 music at background. Equalizer - Video: 3GP.MP4 in full screen mode. - APN: 2.0 megapixel. more of 1280x1024 pixels. MP4 video recording - Roma: Micro SD 256M as a gift. extension of memory more than 2Go - Transfer of data: USB cable / USB flash disk - Standby Photo: jpg. gif - Contacts: 500 groups. - MMS: 200 SMS / MMS - support auto start/close, can set user-defined photo of start/close - Alarm: MP3 Alarms - Games: 3 - MP3. MP4. Hand free. sendings of grouped sms. Dictaphone. WAP. - GPRS download. MMS. Extension memory. E-dictionary. Dual SIM with 1 on-line . Email. - Call Recorder - Frequency: GSM - Frequency of functioning: 850 / 900 / 1800 / 1900MHz - Talk time: 240-360 minutes - Time in sleep mode: 200-300 hours - Design: touch screen - Dimensions 117x61x16 mm - Weight: 125G "

sold by Sia Electronics
139€

Clients who searched this product also liked:

Advices for this article:

- This device can read MP3 music files.
Better understand this article:

3G:International Mobile Telecommunications-2000 (IMT — 2000), better known as 3G or 3rd Generation, is a generation of standards for mobile phones and mobile telecommunications services
USB:Universal Serial Bus ports enable you to connect multiple devices together without turning them off.
MID:A mobile Internet device (MID) is a multimedia-capable mobile device providing wireless Internet access.
DUAL:DUAL SIM enables having 2 SIM cards working side by side.
STANDBY:Dual Standby means the device can answer calls from both SIM cards at the same time.
DIN:It is the size format of the device. 1DIN is generally used by small cars while 2DIN is designed for big cars.
MP3:MP3 is a famous music file format.
MP4:MP4 is a famous video file format.
Clients comments (for questions, use the contact form):
---
Copyright(c) 2009-2010 NetPayBox All rights reserved.
SALES POLICY -
CONTACTS -
SELL ON NetPayBox -
AFFILIATION PROGRAM -
TRANS ASIA GROUP -
HOME -
REFERENCEMENT -
SITEMAP