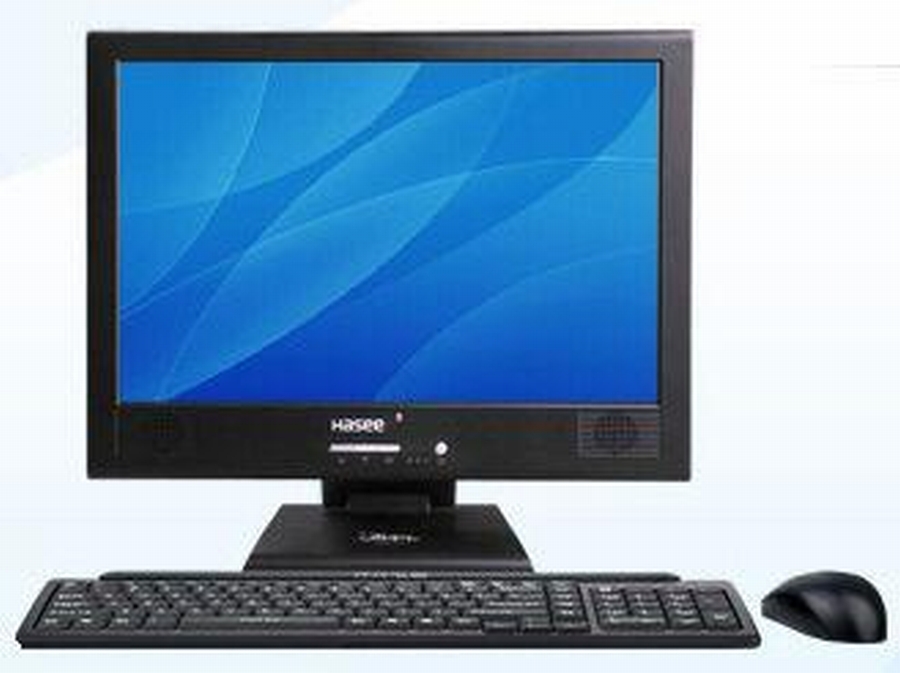 Image 1; Image 2
HASEE PC PG920 All-in-one PC Desk PG920 - LCD ''19'' screen WXGA - CPU Pentium Dual-Core E2200 2.2G - Memory (RAM) 1G DDR2 - 160G PG920 All-in-one PC - LCD ''19'' screen WXGA - CPU Pentium Dual-Core E2200 2.2G - Memory (RAM) 1G DDR2 - 160G SATA - ODD DVDRW - Chipset Intel 945GC/GZ - Graphic card GMA950(integrated) - KB&Mouse Standard&Optical - Card reader 9 in 1 - LAN I/O Port ETHERNET 10/100M - Details : IntelCore2 Duo 65W Pentium Celeron Pentium Duo Core CPU / LGA775 / 19''WXGA / 945GZ/945GC / RAM DDRII 533MHz MHz / up to 2GB / SATA / Intel GMA 950 / AC975.1channel / group of loudspeakers / Drive support DVD dual / Combo / Supermulti / I/O Port ETHERNET 10/100M / ''9 in 1 Card Reader 1* LAN port / 5*USB ports / 2* PS/2 ports1×MIC input/1×audio input/1×audio output/1×IDE port/1×VGA output/OSD LCD panel'' / Standard KB& Optical Mouse / 13kg / 200W Adapter

sold by HASEE
512€

Clients who searched this product also liked:

Advices for this article:

- This product has been designed by Hasee Europe and is 1 year warranted.
Better understand this article:

RAM :Random Access Memory, the memory that is used by the device and is deleted while turning off the device. It is used as temporary memory by the device.
USB:Universal Serial Bus ports enable you to connect multiple devices together without turning them off.
CPU:The Central Processing Unit or processor is the brain of your computer. Is is a chipset that executes complex operations at a certain frequency (2 GHz = 2 Giga operations per second).
INTEL:Intel Corporation (NASDAQ: INTC; SEHK: 4335; Euronext: INCO) is an American global technology company and the world's largest semiconductor chip maker, based on revenue.
DUAL:DUAL SIM enables having 2 SIM cards working side by side.
DVD:DVD is a memory support, evolution of the CD.
OSD:OSD is a system that enables you to have menus on-screen for setup the device easily.
HASEE:Haseeis the second biggest computers manufacture in China.
Clients comments (for questions, use the contact form):
---
Copyright(c) 2009-2010 NetPayBox All rights reserved.
SALES POLICY -
CONTACTS -
SELL ON NetPayBox -
AFFILIATION PROGRAM -
TRANS ASIA GROUP -
HOME -
REFERENCEMENT -
SITEMAP